Villanova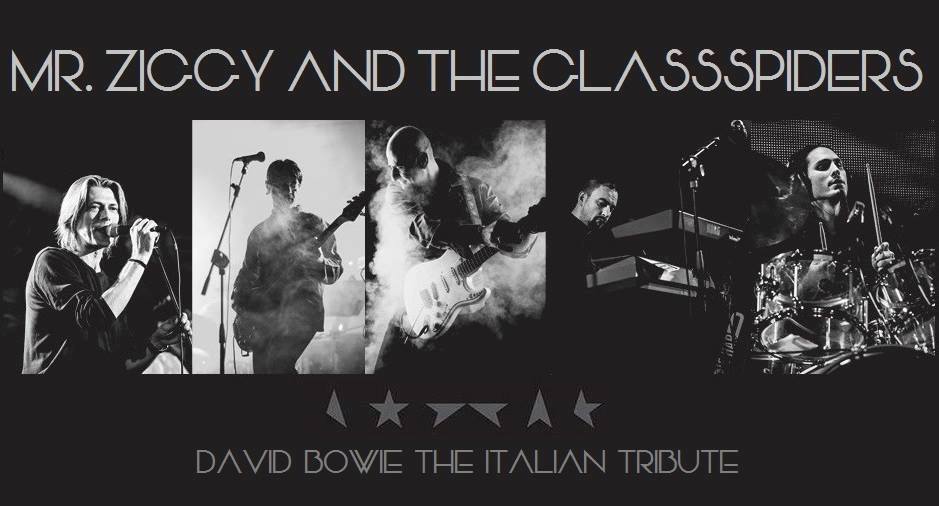 Sabato 02 settembre, al Villanova (Via Basento – Pulsano, Taranto): Mr. Ziggy and The GlassSpiders perform David Bowie
Mr. Ziggy and The Glassspiders in concerto – Tributo ufficiale italiano a David Bowie.
Nati come tribute-band di David Bowie nell'estate del 1991, calcando palchi più o meno importanti, nel 1993 vincono il premio come miglior tribute-band della capitale, dopo una tournè di un mese in Tunisia.
Nel 1998 una delegazione del VelvetGoldmine, il fan-club ufficiale italiano di D.Bowie, gli intervista prima di un concerto, di li a poco si sono trovati scaraventati nel "giro che conta".
Dopo molti anni con tanta esperienza live, alcune interviste su delle radio private della capitale ed uno special live per il TG3 per i 60 anni di D. Bowie, continuano la bella favola che fino ad oggi gli ha accompagnati attraverso la camaleontica eccentricità del Duca Bianco.
Line up: Stefano Cannone: voce solista, ch. acustica e sax – Lorenzo Raparelli: basso, backing tracks, cori – Gianni Russo: chitarra, cori – Pasquale Renna: pianoforte, sintetizzatori, backing tracks, cori – Lorenzo De Feo: batteria, backing tracks, percussioni.
Se vi definite Fan di Bowie, una serata con Mr. Ziggy and the GlassSpiders non può assolutamente mancare nella vostra agenda. Se invece siete "inesperti" ma mossi dalla curiosità di conoscere qualcosa della rock-star che ha cambiato la moda e la musica dai primi anni '70, Mr. Ziggy and the GlassSpiders è quanto di più esauriente possa capitarvi di ascoltare.
Al termine del concerto, party anni '80 con Ciro Merode dj.
Ticket 5 €
Prenotazione Tavoli per cenare: 3406592744
Infoline: 3384273389
Villanova
Via Basento snc
Pulsano – Taranto

2017concertoDavid BowieliveMr. Ziggy and the GlassspidersPulsanoTarantotributeVillanova