Vida Loca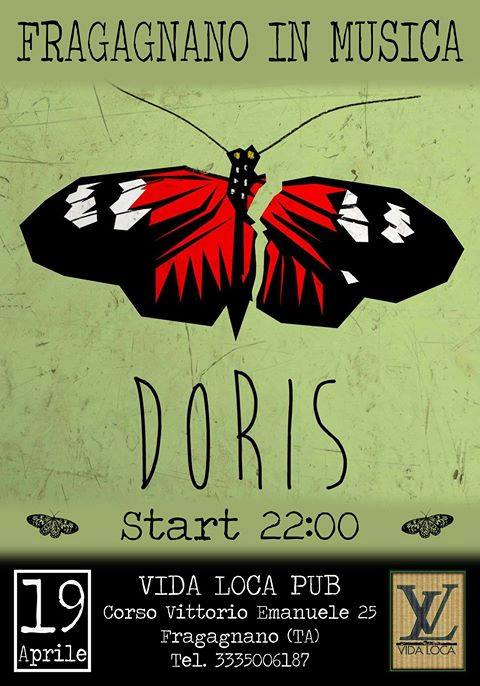 I Doris sono una band postrock nata nella primavera del 2016. La band è composta da Davide Esposito voce e chitarra, Giuseppe Calvano chitarra e cori, Fabrizio Fiore basso e Massimo Lucchese batteria, quattro modi di esprimersi eterogenei e compenetranti acquisiti dalle varie esperienze passate (Kelsa, Beirut, Sleepers, Shoes, Samsara, IONIO, Amnèsia).
Presentano il loro primo Ep omonimo registrato in estate, lavoro di cui hanno curato la direzione e la produzione artistica, con la preziosa collaborazione di Elio di Menza (Elius Inferno and The Magic Octagram) che ha saputo valorizzare idee, suoni e ambiente, ovvero una vecchia cantina in pietra viva meglio conosciuta come CRIPTA. La grafica della copertina dell' Ep è stata ideata e realizzata da un noto artista e pittore tarantino Edoardo Boccanfuso (http://www.edoardoboccanfuso.com/). Amplificatori valvolari, riverberi maestosi, distorsioni tirate per il collo, intrecci vorticosi di chitarre elettriche e un solido comparto ritmico sono gli ingredienti di supporto ad una voce dolce e allo stesso tempo violenta.
L'Ep Doris è disponibile in streaming su bandcamp e in formato fisico (CD).
Davide Esposito – VoX & Guitar
Giuseppe Calvano – Guitar & Effects
Fabrizio Fiore – Bass
Massimo Lucchese – Drums
Vida Loca Pub
via Vittorio Emanuele, 25
Fragagnano – Taranto